MARAIS AND MIRANDA on CDs

Many people have written inquiring about getting Marais and Miranda on CD. There have been two CD's issued containing Marais and Miranda recordings, "Returning Home with Marais and Miranda" (see below) and "Doris Day: Love To Be With You" (see further below).

"RETURNING HOME WITH MARAIS AND MIRANDA"
The only all-Marais & Miranda CD ever produced was "RETURNING HOME WITH MARAIS AND MIRANDA," which was pressed in a small edition in 2001 and sold on this website for 4 years. It is now sold out, and as of this time, there are no plans to reissue it. However, we keep getting requests for it. To remedy this situation, Josef and Miranda's family have graciously agreed to make the recordings from Returning Home available here as MP3s for download.
These are high-quality encodings, suitable for burning your own CD. They are large files. (If there's sufficient demand, I will make lower-quality MP3's available foir more compact MP3-player loading.)

RETURNING HOME consists of recordings from the mid-60's that were originally issued on the LP's OPEN AIR CONCERT and THE SOUVENIR ALBUM. About half of the tracks from each LP were restored and combined to create RETURNING HOME.

(Please be aware that these recordings are offered for personal use only. They are copyrighted material, and any sale of this material would constitute copyright enfringement.)

---
MORE
MARAIS & MIRANDA
ON CD!!

DORIS DAY: LOVE TO BE WITH YOU
Zone Records has released the first volume of the Doris Day radio show from the early 1950's. Vol 1 - a 2-disc set - includes two appearances by Marais and Miranda singing a total of three songs and doing some of the usual radio chit-chat.
The set is beautifully produced, and sound quality is fine. Josef & Miranda do a gorgeous rendition of
"Old Johnny Goggabbie," maybe the best rendition they recorded.
Perhaps most unusual, Josef & Miranda sing with Doris on "Around The Corner" and they are joined by Doris and Gordon MacRae on a performance that evolves into a wild quartet version of "Ma Says, Pa Says," which was then a big hit and was being covered by a variety of singers.

The CD can be ordered from Zone Records in the UK.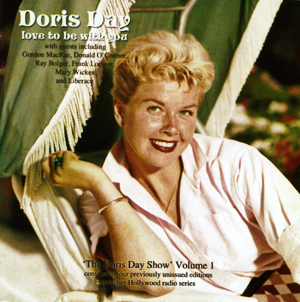 LISTEN TO SAMPLES
(Please bear in mind that MP3 conversion often introduces distortion into older recordings. The CD sounds better than these samples)
Around The Corner
Old Johnny Goggabbie
Ma Says, Pa Says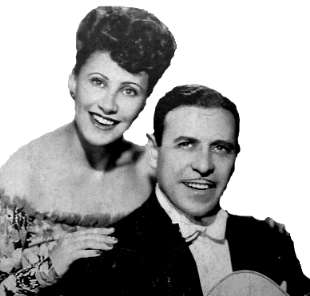 Josef Marais and Miranda were balladeers. Both immigrants to the U.S., they met during WW2 while working at the Office of War Information. They pooled their musical talents, fell in love, and built a strong and dedicated marital and musical partnership. They first presented their artistry to the rather specialized audiences who attended New York folk music clubs such as the Village Vanguard. However, their popularity quickly grew, not just in the U.S. but worldwide, and resulted in a loyal following that has persisted from 1945 to the present.
Their repertoire encompassed an eclectic selection of folk ballads, art songs, indigenous music, and original compositions, sung in both the original language and the English adaptations of Josef's arrangements. Whether they performed a song that was original or traditional, their presentation was utterly unique and their style completely their own. Their voices blended masterfully with Josef's guitar and baroque viols, while Miranda often provided rhythmic accompaniment on indigenous instruments. Together, they unerringly conveyed their joy in music and their zest for living.
Josef and Miranda performed for their enthusiastic fans in typically sold out halls, large and small, all over the world, as well as on the numerous recordings listed on this site. Their broad appeal drew high accolades from a variety of fans. Press releases and reviews supporting them can be found here.